Click ...the early reviews....

City Magazine December 1998
by Warren Kurtz
Click
Radar Rose (Encrypted Records)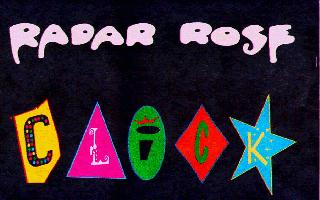 Radar Rose, the heart of Roanoke's rock community, has released their first
full length studio CD. The title of the quintet's CD is Click and it sure does
click. All ten songs are winners. They had several original compositions to
pick from and tried to choose the best. Don Clifton has joined Radar Rose
since their prior release One Dozen Live Roses. Don plays a collection of
saxophones on many of the tracks and served as a production leader on this
project recorded at Richmond's Sound of Music studio. Returning are Jane
Gabrielle on vocals and guitar, Sonny Campbell on background vocals,bass,
organ, and penny whistle, Mike Balkom on drums, and Anastasia Mooney on
vocals, guitar, flute, and percussion.
"Shrinking Violet" starts the collection tenderly with this well written love
song, which also includes Mike Mitchell guesting on violin. Jane's vocal
emotion is convincing.
"Throw Open the Window" really swings with abrass
background and fun background vocals on top of Anastasia's bouncy lead vocal.
"Something About You," with lyrics by Jane Gabrielle and Lisa Balkom is quite
beautiful with Anastasia Mooney's flute providing a nice backdrop and blend
into Don's sax. Jane captures the essence of Janis Joplin in her tender yet
powerful delivery.
"Pick It Up" picks up the pace as a punchy rocker, with twin lead vocals in
parts, and powerful flute and electric guitar performances. Anastasia's
musicianship shines.
"Croozin'" allows Mike to provide an appropriate
shuffling beat on this tale of leaving.
"This Child is a Bridge" is almost a calypso musical hybrid on this important
composition about an interracial child.
If "Pick It Up" picked up the pace, then "Climb" allows the band to soar. It
is powerful and catchy. If the album title of Click is ever mistaken as Climb,
this song is the reason why, already receiving air play along with half the
tracks.
"Don't Touch That Love" is based on the Nashville sounding line "don't
touch that love 'cause you don't know where its been." The guitar work helps
to give it a Nashville sound too.
"We Were Young (Joe)" was written ten
years ago and has almost a Springsteen 80's pop sound especially with Don's powerful
sax. It deals with a group of friends and the death of the first one of the
group. It is perhaps the catchiest of the ten songs included.
The CD concludes with the gentle "Bright Star" which sounds like something
that you might hear at an acoustic show from band members Jane and Sonny.
Click is available at Record Exchange stores in Virginia and North Carolina,
and at Safe as Milk Records in Downtown Roanoke. Catch Radar Rose live on
December 11 with Zakiyah at Belly of the Beast in Salem.