Radar Rose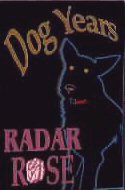 Dog Years 1993

from Music Review- Tony Hayes June 1993

"Radar Rose is(was....) the folk/rock duo of Jane Gabrielle and husband Sonny Campbell. Not that we should label anyone's music, but so you'll know what to expect going in, their music has been termed "anti folk", "punk folk", and "appalachian rock."

With their latest release "Dog Years" on Flat Five Records, this will no doubt bring about other labels to their music. The important thing to remember is that, judging by what is contained on this album, Radar Rose takes on a number of issues and takes them on well.


Gabrielle's strong vocals are key to songs like "How Do You Make Love Stay" and "Be Real With Me", both odes to many modern-day relationships. But gears shift rapidly with the song "Get To Dance" which takes on gay bashing, and a kid gone bad from the start story "Wrong Place Wrong Time." Then Radar Rose takes on the environment with "Titanic."